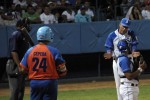 Sancti Spiritus baseball Gallos (Roosters) started on Wednesday the decisive phase of Cuba's 52 national season and got closer to the semifinals, in which the best four teams are to fight for medals.
It could not have been better for Sancti Spiritus baseball team: they have played a stable 52 national series along with Cienfuegos Elephants, and are currently placed second with a 43-22 record, with some considerable advantage over their most near rivals when only 21 games are left.
Roosters are five games away from third-positioned Matanzas Crocodiles (33-27), seven from Ciego de Avila Tigers (36-29), eight from Industriales Blue Lions (35-30) and nine from Villa Clara Orangemen (34-30), owner of the 5th place.
In the first part of the second stage, the squad led by Yovani Aragon plays for a 13-8 record, and they have lost only two three-game series, including the swept away by Cienfuegos.
The offense and pitching continue to be the key elements for Sancti Spiritus. In the hurlers area, starters work for a 2, 62 ERA (second best in Cuba), while relievers lead the season with a 2, 38 ERA.
Offense goes 4th and is led by Frederich Cepeda. Sancti Spiritus' third man in the roster is placed among the best in several batting departments.
From this Wednesday on, Sancti Spiritus faces Pinar del Rio as visitor, a team they beat 2×1 in the first part.
The rest of the games scheduled are Isla de la Juventud-Ciego de Avila, Matanzas-Industriales and Villa Clara-Cienfuegos.