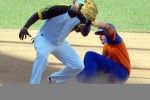 Sancti Spiritus and Pinar del Rio baseball clubs started their Monday to Wednesday subseries in the Jose Antonio Huelga park at 7:15 pm.
After being swept by current champions of the Cuban baseball, Sancti Spiritus Roosters face Pinar del Rio, which also lost all of its three last games vs. Industriales Blue Lions.
The Wolves of the western province (3-3 record) send to the box Vladimir Baños, Erlis Casanova and lefty Julio Alfredo Martínez, while Roosters (2-4) must depend on Noelvis Hernandez, Yuen Socarrás and Javier Vazquez.
Alfonso Urquiola's players are better than Yovani Aragon's in the pitching area: 2. 50 ERA with 33 SO and 19 W (6th placed) for the 4. 14 ERA with 36 SO and 28 W.
Roosters however are better at the offense: average of 268 (4th) for the 223 (15th) of Wolves, and the defense performs equally for both with a 980 average.
This would be, wihtout doubt, an interesting subseries as both teams are fighting not to get too far from the qualifying eight.