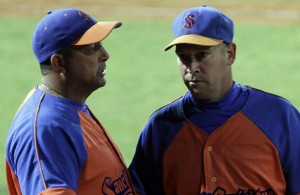 When the 53rd Cuban Series ends on Sunday its qualifying stage, Sancti Spiritus baseball club, known as Los Gallos (Roosters), will be writing one of its most sad pages in history. 
However, not everyone is aware of that and assume the same indifference with which they went to the field many times.
Escambray invited the men behind the results to stand in front of the mirror, but before you get too excited, know the answers sound like a worn-out record: "things didn't work as planned".
Frederich Cepeda could have hidden himself on his finger's injury just five months ago, but he preferred to talk: "We did all that needs to be done to face a short tournament like this, but things didn't go as expected. On a personal note I couldn't help the team as I was supposed to; it's now time to move on".
Eriel Sanchez, one of the hardcore, believes he has no strong arguments as he was away from the team for several games due to possible slipped disc. "The preparation was good but when things start to go wrong, you lack motivation and the hunger for victory. As regulars we have a responsibility, but if we are a team each member has to play its role. We can't keep on waiting for three or four men to do it all, sometimes player 25 decides. We need to create some others Eriel, and Cepeda…"
Different positions take Orlando Acebey and Yoandi Baguet. "Things turned upside down. From the tactical and technical point of view the championship grew big for us. Defense errors were just part of the game, and mental ones depended on the squad's mood. We got too sloppy and relaxed. Rojas helped me a lot with my defense but I honestly didn't think it would turn out so well", said Baguet.
How did a few of them dust off the lethargy? Daviel Gomez opened a door: "I took the opportunity I was given; I'm a lively player but sometimes I think the team lacked that emotion"
On the box, some wins vanished in the eyes of powerless Ismel Jimenez and Angel Peña, who deserved more offensive support: I don't know what to say, nothing happened among us, when the pitching was effective, the roster didn't' bat or vice verse; I feel bad because I'm not used to lose that many games but we need to overcome this", said Roosters' ace, while Peña emphasizes: "There weren't any indiscipline, just youth and experience combined, and we were out on the field to win, that I guaranteed".
Newcomers like Aldo Conrado finds answers outside the field: "I arrived in a bad epoch, we lost many matches for one or two runs. I think we were not lucky".
Carlos Perez, the physical trainer, explained that "the team's preparation was similar to the past season; it's just that the three key aspects of the game didn't combine to win. The players didn't perform as expected on the field. There are individual goals which if placed separately from the collective ones, the result is defeat".
For Rafael Muñoz, the technical trainer: "if the results weren't good we can't blame it on the training; we participated in national courses, we applied the theory learned, but the batting was ineffective, we left too many men on bases, we walked many rivals. In the end, we are willing to assume any critics because it certainly wasn't a good performance".
At the head of the pitching staff, Juan de Dios Peña regrets what he considers: "a lost year because his hurlers looked better during the training period, even when the control wasn't fine. What can a pitcher do when you have such a lousy defense?
Changing moods, lack of motivation, apathy. Through these ways we get straight to Carlos Hernandez' psychology: "the team's attitude hasn't been the appropriate; tensions appeared but we showed them how to manage them through relaxation and breathing, however it was just up to the players to put it in practice. Many young players tried to give the boost, but those with most responsibility on the team didn't do it. We see no leadership on the team and I strongly believe they could have played with more passion for their province. Their apathy is rooted and sometimes they take individualist stands"
In the blink of an eye, Yovani Aragon passed from a fourth position to the last in Cuban baseball. Without much time to reflect on the debacle, he expresses some opinions: "The failures are so many that I just can't name one directly, though I keep on thinking the results would have been different should the key men on the team had played their role. Eriel almost didn't work as catcher, Cepeda had his limitations, Monteagudo was out due to low performance and Mendoza suffered an injury. The new players didn't do it badly. I was only left with the choice of working some magic, and…We need to work immediately with these young men who are really talented".