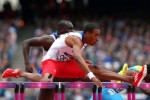 The Cuban Athletics Federation (FCA) informed that 110m hurdler Orlando Ortega abandoned the Cuban delegation attending the recently concluded World Championship in Moscow, capital of Russia.
The FCA pointed out that the decision of relinquishing the cause of the country that formed him as an athlete deprives him of the honor that competing from the ranks of a sports movement consolidated in its values represents.
Attitudes like his have nothing to do with the principles inspiring us and that will always be condemned by those who see in loyalty an irreplaceable component of genuinely popular sports, specifies the note.
May this note serve to ratify such concepts and assure Cuban sports followers that any indiscipline of similar nature will be informed to them at the proper time, points out the text.