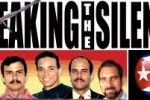 Youths of the World open Havana Forum in Solidarity with the Cuban Five
Nearly 150 youths from Cuba and countries in the Americas, Europe, Africa and the Middle East will open today in Havana the 6th International Youth Encounter in Solidarity with the five Cuban anti-terrorist fighters held in the United States since 1998.
The forum was called by the Cuban Young Communist League on behalf of all juvenile and student organizations on the island.
High on the agenda of the forum, which takes place at the Julio Antonio Mella School of the Young Communist League, are actions to break the wall of silence raised against the case of the five Cubans. Participants are inspired in the fact the international solidarity and unity are the main weapons at hand to get the release and return to Cuba of Gerardo Hernandez, Rene Gonzalez, Ramon Labañino, Antonio Guerrero and Fernando Gonzalez.
During Monday's session, the youth will learn details about the struggle of the Cuban Five, their lives before and after their arrest on September 12, 1998 and the biased process that gave them extremely long and unfair sentences. They will also address the international campaign aimed at putting an end to the injustice committed against the five heroes.
The forum will include discussion panels and meetings with former agents of Cuban State Security, relatives of the Cuban Five and activists with the International  Committee for their release.
The delegates will also visit the Jose Marti Memorial where there is a painting exhibit about National Hero Jose Marti, which was made by Antonio Guerrero in his prison cell.