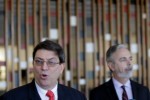 Bruno Rodriguez confirmed Cuba will to begin serious talks on Alan Gross.
Cuban FM Bruno Rodriguez confirmed Cuba's  willingness to begin serious and respectful talks on the case of Alan Gross.
In this regard, Rodriguez emphasized that exchanges should take into account the reciprocal humanitarian concerns of his country in the case of other Cuban citizens serving sanctions in the United States, as it's the case of the four antiterrorist fighters unfairly incarcerated there.
Accompanied by the Brazilian Minister of Foreign Affairs, Antonio Patriota, with whom he held talks on Tuesday at the Foreign Ministry, the Cuban FM ruled out any comparison between the cases of Rene Gonzalez and Alan Gross.
He recalled that antiterrorist Rene Gonzalez was unfairly condemned in the United States, served his 13 years of imprisonment, suffered a long period of time in solitary confinement and lacked the guarantees of due process.
The U.S. law foresees that a person in that situation, after serving his sentence, receives a period of probation, which in the case of Rene Gonzalez constituted an unfair and additional punishment, since from the start the return to his country was denied to him, in spite of his willingness to relinquish his U.S. citizenship, highlighted Rodriguez in statements to the press in Brasilia.
On the other hand, he stated, Gross is serving a sentence in Cuba, sanctioned for violating national laws as an agent of a foreign power, while trying to create networks with the use of non-commercial technology to cause a breach of the Caribbean island's constitutional order. It's a concept also defined in the U.S law as a crime, he asserted.
The Cuban Minister said that the Judge of the case has allowed Rene Gonzalez to stay in Havana for the rest of his supervised release, after reiterating his willingness to relinquish his U.S. citizenship.