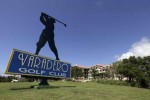 Cuba will host the 5th Montecristo Golf Cup from April 25 to 27 at the Caribbean resort of Varadero, 87 miles east of Havana, tourism authorities announced.The Cup will be held in its usual scenario of the Varadero Golf Club, a 18 holes course par 72 in a narrow beach strip of 2.17 miles and it is open to 120 players, professional or amateur, aged over 18, reports Xinhua.
As part of the technical details of the event, the organizers said Sunday that the cup will be attended by men with certificated handicap equal to, or less than 24, and women at or below 30.
The competition system will have two different formats: Medalplay first category for handicap men between zero and 12; Stableford second category for handicap men 13 to 24, and Stableford for handicap Ladies category from zero to 30.
The schedule is composed by a practice round and two days of competition. Three awards will be given per category, another one for best Gross result, and other for skills.
The previous edition of the Montecristo Cup was attended by golfers from 100 countries and regions.