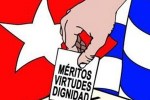 Cuban electoral authorities are testing the voting system on Sunday throughout the country in order to get everything ready for next February 3 general elections.
A week before the people vote 612 Parliament deputies and nearly 1 270 provincial delegates, all voting stations and entities involved in the process are testing their capabilities and checking their performance and all necessary resources to guarantee the election.
National Electoral Commission president Alina Balseiro said the this Sunday dynamic drill allows testing the performance of the voting stations, the communication system and it will end with an intensive training session.
The training of all electoral authorities and the promotion of the voting procedures are major aspects for electoral commissions in all territories, said Balseiro.
Preparations for the vote have included all details either related to the organization of the vote and the communication systems involved in the process.
A total of 29 942 voting stations have been set up for an election including over 8 million citizens.