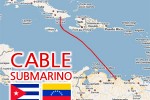 A fiber-optic cable that links Cuba, Venezuela and Jamaica is up and running since August 2012, being used initially for voice traffic, the Cuban Telecommunications Company ETECSA S.A. said on Wednesday.
The statement adds that the Cuban company has just began to test Internet traffic on the system.
After a complete testing, the coming into operation of the submarine cable will not mean an automatic increase in the possibilities of Internet access. In order for this to happen, the island's telecom infrastructure will require strong investment to achieve a gradual growth of this service, which we currently provide mostly free and for social purposes, ETECSA said.