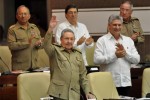 Army General Raul Castro Ruz, president of the Councils of State and Ministers of the Republica of Cuba, attends the 2nd ordinary period of sessions of the 7th Legislature of the Peoples' Power National Assembly.
Today's agenda includes the discussion of the draft Labor Code, which Cuban legislators should approve in this last meeting of the year.
During 2013 second half, the draft labor code was subjected to popular consultation, in which most of the island' workers participated.
In force since the 80s, this rule is an obsolete legal tool for the country's reality.
Legislators will also receive information about the course of the updating of the Cuban economic model, and the implementation of the guidelines approved in the last congress of Cuban Communist Party.
The forum will also analyze the execution of the State budget in 2013, and the draft budget for 2014, which should be discussed and approved by the assembly.
The ordinary session of the Peoples' Power National Assembly should end on Saturday, Dec. 21.
(With information from Prensa Latina)