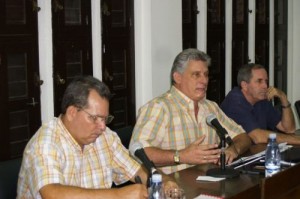 The need of promoting away-from-vulgarity entertainment was highlighted in Sancti Spiritus by Miguel Díaz-Canel Bermúdez, member of the Political Bureau of the Party Central Committee, and Cuba's first vice president.
Diaz-Canel specially stressed the importance of fostering non-traditional youth centers, diversifying proposals, and having non-state business involved in recreational undertakings.
Since recreation has been identified here as one of the major dissatisfactions of local residents, the first vice president advised not to tackle the problem only from time to time. He called to systematize recreational options all the year, mostly on weekends.
Jose Ramon Monteagudo, member of the Central Comité and first secretary of the Party in Sancti Spiritus, said that there are better conditions this year in this respect. He referred to the favourable situation of the beach areas in Trinidad, and to the cultural institutions and areas that have been restored in the territory.