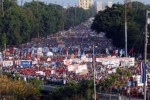 Over 2 thousand unionists, leaders of social organizations and solidarity movements from 73 countries of the world have confirmed attendance of May Day celebrations in Havana.
Raymundo Navarro, member of the National Secretariat of the Cuban Workers' Confederation (CTC) said that unionists from other nations have traditionally participated in celebrations here for International Workers' Day on May 1st, according to Granma newspaper.
Navarro added that the participation of so many visitors in the march that will take place at Havana's Jose Marti Revolution Square will convey special meaning because it will pay special homage to Bolivarian leader Hugo Chavez and the Venezuelan Revolution, which keeps advancing under the leadership of Nicolas Maduro.
The Cuban unionist said that the foreign participants are guests of the workers' confederation, the Cuban Friendship Institute, the National Assembly of People's Power and the Young Communist League, among other local organizations.
On this occasion, the visitors will join the large bloc of participants at the meeting of the Sao Paulo Working Group, which takes place Monday and Tuesday in Havana.