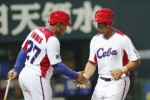 Team Cuba unleashed a ferocious offensive to beat China at the 3rd WBC 12×0. Homers by Alexei Bell and Jose Dariel Abreu were the first in the Fukuoka Dome Stadium, where Pool A has its venue.
Cubans bats were furious this Monday when combining two homers and 15 hits to deafeat the Chinese squad 12 x0 to secure a ticket to the second phase of the WBC, to start on Friday.
We are very happy with the result as we've met our first goal: to qualify for Tokyo's second stage; we know the most difficult games are to come but we are ready and hopeful that we can move on until San Francisco, said Cuban manager Victor Mesa.
Abreu had a huge game, finishing 2-for-4 with a double, a grand slam and five RBIs. Frederich Cepeda joined the hit parade with a double, a triple and an RBI on a 2-for-3 afternoon, while Alfredo Despaigne had a two-run double among his two hits.
Bell finished the game with one hit, but it was a big one, a two-run homer in the fourth.
Danny Betancourt was impeccable as starter, working in4 2/3 scoreless innings while allowing one hit and striking out eight.
Cuba will fight Japan on Wednesday to determine the firt position of the pool. Both teams will be present in Tokyo on March 8 to begin the second phase.
With information from www.worldbaseballclassic.com and Prensa Latina.