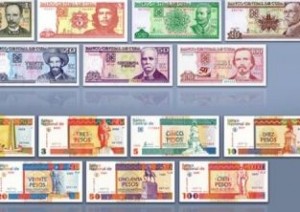 The major changes of the first stage of the process will take place in the legal persons sector.
In fulfilment of that stipulated in Guideline 55 of the Economic and Social Policy of the Party and the Revolution, passed in the 6th Congress of the Party, the Cuban Council of Ministers has agreed to put into force the implementation schedule of the measures that will lead to the monetary and exchange unification in the island.
According to a communiqué, the currency unification and exchange will not solve the country's current economic problems by themselves, but its implementation is essential to ensure the reestablishment of the value of the Cuban peso and its functions as the country's currency. The process will start for legal entities first and for people later.
The Council of Ministers meeting agreed to begin preparing the currency unification's juridical norms and framework, designing changes in the informatics systems dealing with accountability registries, and adjusting accountability norms, as well as training the staff dealing with the implementation of the changes.
The monetary unification will respect the principles of the confidence gained by people who have so far kept their savings in CUCs, other international currencies or regular Cuban pesos. The current policy to subsidize retail prices and people in need will be in effect as long as the country's economic conditions require and enable the island to do so.
(Translated by  Escambray/With information from Radio Havana Cuba)