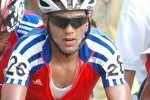 Cuban cyclists will be present at the Pan American Championship in Mexico from May 1st to 5, as confirmed by the National Cycling Commission in Havana Monday.
The group of competitors include Arnold Alcolea, Yasmani Martinez and Jan Carlos Arias, all of them coached by Henry Rodriguez.
The Cuban female team is formed by Arlenys Sierra and Marlies Mejias, coached by Leonel Alvarez.
Hector Ruiz, National Commissioner, will be at the head of the two teams.
The Cuban teams will train at the heights to be ready for a High Mexican state as it is the state of Zacatecas, more than 2,400 meters over sea level.