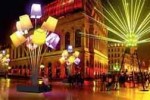 Cuba participated for a second consecutive year in the traditional Lyon Consular Party, an event that gathered some 60 countries from the five continents in the third largest city in France.
Headquartered at the Place Bellecour, this is an important space to spread the culture, traditions, and the economic, political, and social development of each nation.
Lyon's mayor Gerard Collomb visited Cuba's stand, where he held a meeting with the Cuban delegation, headed by ambassador in France Orlando Requeijo, and Consul General Jose Antonio Garcia.
During the meeting, Requeijo expressed gratitude for the warm welcome this French city has given to his country for a second time in the Consular Parties, and stressed the importance of this initiative to encourage mutual understanding and exchange between the countries.
Members of the Tourist Office in Paris, the International Group of Tour Operators and Travel Agencies Havanatur SA, diplomats, and Cuban residents in that city also participated in the event.
This was also an opportunity to talk with the visitors to the stand about the consequences of the blockade imposed on the island by the United States for more than 50 years, and the unjust sentences against five Cuban antiterrorist fighters held in that northern country.