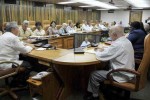 Cuban President Raul Castro presided over a meeting of the Cuban Council of State on Thursday, which approved a decree law establishing the Special Development Zone of the Mariel Harbor, to the east of Havana.
Raul Castro described the future container terminal being raised at the harbor, in the province of Artemisa, as a work of the present and for the future of the country.
According to Granma newspaper, the new project is the result of the accords adopted by the 6th Congress of the Cuban Communist Party which, among other projects, promote the setting up of special development zones to increase exports, the replacement of imports, the implementation of cutting-edge technology and local development and the generation of new jobs.
The decree law on the Mariel Development Zone with all rules plus seven complementary resolutions will get in force on November 1.
The zone has some 465 square kilometers and expands along several municipalities in Artemisa province.
According to the Council of State meeting, the zone will operate under special policies aimed at boosting sustainable economic development, foreign and national investment projects, technological innovation and industrial concentration.
Granma newspaper explained that foreign legal entities and individuals, or individuals with residence in Cuba, or local legal entities will be able to carry out productive, commercial or service activities in the new zone, in tune with the Cuban law.
The scheduled start of operations by some of the facilities in the zone in January 2014 will mark the opening of one of the major industrial and service areas for the economic future of the country.