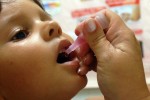 The 52nd National Vaccination Campaign against poliomyelitis in Cuba began its second stage this Friday, with more than 500,000 children to be vaccinated.
Through April 25, about 387,000 minors under the age of three who were immunized in early March will receive a second oral dose of the vaccine, while 132,511 nine-year-old children will have their anti-polio vaccine reactivated, the Ministry of Public Health reported.
The objective of the campaign is to keep the island's population free of diseases that cause disabilities.