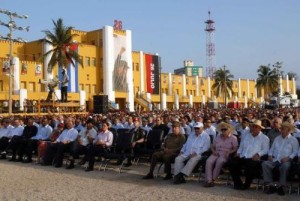 International media highlights the speech delivered by Army General Raul Castro, first secretary of the Party and president of the Councils of State and Ministers, during the ceremony held this 26th of July in Santiago de Cuba, to commemorate the 60th anniversary of the attacks on Moncada and Carlos Manuel de Cespedes garrisons.
Spanish news agency EFE outlined the mass celebration on the National Rebellion Day, and underlined the presence of Jose Mujica, president of Uruguay; Nicolas Maduro, president of Venezuela; Evo Morales, president of Bolivia; Daniel Ortega, president of Nicaragua; as well as other personalities of the region.
French news agency AFP also reported on the act celebrated to mark six decades of the assault on the then second military fortress of the country, which was turned into a school after the triumph of the Revolution on January 1st, 1959.
AFP also referred to Raul Castro's speech who affirmed that this revolution will continue to be the Socialist Revolution of the humble people, by the humble people and for the humble people, announced by Fidel on April 16th, 1961, at the funeral march held for the victims of the bombings that took place on the eve of the Bay of Pigs invasion.
Uruguayan Uypress reported details of the commemoration and emphasized on the speech delivered by President Jose Mujica, who said that the Cuban Revolution is an example of adherence to the principles of dignity and social justice that humankind needs in this globalized world.
(Taken from AIN, and translated by Escambray)