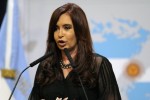 Cristina Fernández will have to stay at her residence for a month, where she will be strictly monitored.
Argentine President Cristina Fernández, was discharged midday Sunday from the Buenos Aires's Favaloro Foundation hospital, where she underwent successful surgery for a subdural chronic haematoma, presidential spokesman Alfredo Scoccimarro said.
Christina Fernandez will now complete her convalescence at the presidential residence in Olivos, where she will undergo a month of "strict recuperation" and cardiovascular monitoring.
Scoccimarro also said the president was in excellent spirits and sent a kiss to all who have supported her during these difficult moments.