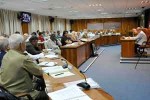 The Council of Ministers adopted in a meeting led by President Raul Castro, the proposals of the Economy Plan and the draft State budget for 2014.
The ratification on Thursday by the Council of those proposals, to be submitted to legislators during this ordinary period of sessions of the Peoples' Power National Assembly (unicameral Parliament), took place after the presentation of the draft State budget for 2014 by Finance and Prices Minister Lina Pedraza.
According to Granma newspaper, the minister referred to the draft, whose macro-economic indicators were taken into account to guarantee the balance of internal finances and contribute to the updating of the country's economic model through the gradual implementation of the guidelines.
Ensuring the levels of activities approved in the Economy Plan in the State budget is one of the main principles to support the proposal, the minister said during the meeting.
Most of predicted incomes tally with tax revenue of circulation and sales, on services, utilities, use of labor force, personal incomes, and other tributes such as the contribution to social security.