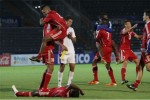 The four teams from America and the Caribbean with tickets to the U-20 World Cup to be held in Turkey, are going to the field on Friday to play the semis matches: Cuba vs. USA and Mexico-El Salvador.
The encounter Cuba-USA is set for 18:00 hours (01:00 GTM) while Mexico-El Salvador is scheduled for 21:00 hours (03:00 GTM).
Cuba made history Tuesday night, securing a place at a FIFA U-20 World Cup for the first time by beating Costa Rica, 2-1, in a quarterfinal dual at the CONCACAF Under-20 Championship.
Forward Arichell Hernandez was the evening's outstanding player, scoring both of Cuba's goals.
The Caribbean Lions got a measure of revenge after being bounced out of the competition by the Costa Ricans, 6-1, at the same stage two years ago in Guatemala.
Hernandez's big night at the Estadio Universitario BUAP began in the 13th minute, displaying power, pace and precision to blast Cuba into a 1-0 lead. Hector Morales provided the assist on a goal that reflected the eventual winner's early dominance. Only the previous interventions of goalkeeper Jairo Monge spared Costa Rica from experiencing a larger deficit.
As the minutes wore on, the Central Americans saw more of the ball, and began to make inroads on the goal defended by Sandy Sanchez.
Four minutes before the interval, Costa Rica leveled when Gabriel Leiva beautifully floated free kick from the right to the far post and David Ramirez beat his mark to net from close range.
It was the best moment of the match for the Ticos, who found it difficult to generate much in the way of offense in the second stanza.
Cuba regained the upper hand with 10 minutes left on the clock. Mercurial forward Maykel Reyes intercepted a wayward pass out of the defense, dribbled into the area and picked out Hernandez, who finished with a powerful right-footed shot.
While Reyes and Hernandez forced mild saves from Monge in the game's last minutes, Costa Rica could not threaten the Cuban net.
An intriguing semifinal against the United States on Friday awaits Cuba; both teams have three wins in three games. Costa Rica failed to qualify for the U-20 World Cup for the first time since 2005.