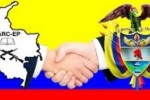 The delegations of Colombia´s Revolutionary Armed Forces (FARC) and the government of Juan Manuel Santos, currently negotiating the end of the armed conflict in that nation, issued a joint communique on Friday as they wound up the 18th round of talks in Havana.
Today, we end the 18th round of peace talks.  We have heard the interventions of several independent experts from different academic institutions, as well as peasant leaders, community and women organizations, on the "Solution to the problem of illicit drugs", the communiqué reads.
These valuable contributions, as well as those received through the forums and the direct participation of citizens and social organizations that have sent us their proposals, have enrich our discussions. We have all exchanged views on this topic. On January 13, 2014, we will begin a new round of talks, and we will resume the discussion of this issue in order to seek a consensus.
Once again, we invite all Colombians and social organizations to submit proposals on this and all agenda items and we thank Cuba and Norway, guarantor countries; and Chile and Venezuela, accompanying countries, for their continued support throughout these discussions.
The Colombian peace talks have advanced during the year with partial accords on issues such as a land reform and the future political participation of the guerrilla group in the country´s civil life. The talks will resume January 13, 2014.