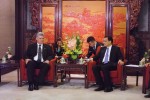 China President Xi Jinping received visiting Cuban first vice-president Miguel Diaz-Canel on Tuesday. The top government Cuban official is on an Asian tour that also includes Vietnam and Laos.
According to Cubadebate website, Xi Jinping welcomed Diaz-Canel and his delegation at the Great People's Palace, in the heart of the capital Beijing.
Diaz-Canel met on Monday with Chinese vice-president Li Yuanchao, who said that bilateral relations with Cuba are in a comprehensive developing stage and that the two nations have mutually learned about the construction of socialism according to their own realities.
The Cuban first vice-president expressed Cuba's admiration for China, a country Cubans considered as reference to attain their objectives bearing in mind the characteristics of the two nations.
The Cuban delegation is made up of Communist Party Central Committee member Leonardo Andollo, who heads the Permanent Commission for the Implementation and Development of the Social and Economic Guidelines adopted by the Communist Party, and  deputy foreign minister Rogelio Sierra.