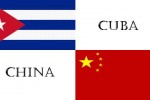 Cuban and Chinese officials met on Tuesday in Beijing to discuss new ways to develop cooperation in the food industry, Prensa Latina reported.
The Cuban minister for the Food Industry, Maria del Carmen Concepcion, who is visiting China for the first time, met with Miao Wei, Chinese Minister of Industry and Information Technology, as Cuba is seeking China's assistance to prop up the quality and efficiency of its food production sector.
During the meeting, the Cuban official expressed interest in learning about China's policies and regulations for food quality and safety.
Both officials also discussed the potential for joint ventures, particularly in the dairy, meat, jam, and beer industries.
Concepcion's official one-week visit will include several meetings with government agencies and visits to food industry-related companies in Tianjin, Liaoning, and Shandong. The official will also discuss shrimp farming and review Cuban seafood exports to China.