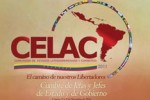 Meetings prior to the first Summit of the Community of Latin American and Caribbean States (CELAC) and the European Union (EU) got underway Thursday in Santiago de Chile, with the Fourth Meeting of National Coordinators of the regional group.
The coordinators meeting will discuss the final document that will be put to heads of government for consideration on January 26th and 27th. CELAC members will hold a summit of their own on Monday, January 28.
The representatives of the attending delegations evaluated Wednesday the work done in 2012 by the troika –- a special commission composed of Venezuela, Chile and Cuba– as well as the impact of their actions on the strengthening of the foundations of this relatively young integration mechanism.
They also highlighted the prestige and strength gained by CELAC internationally, owing to the seriousness and professionalism with which the group has organized its activities in various forums worldwide.
Addressing Wednesday's meeting, Chilean Foreign Minister Alfredo Moreno said the CELAC summit is of "utmost importance" for his country. He added that this isn't merely a political summit since there will be various parallel economic, judicial and scientific meetings, the conclusions of which will be send "directly to the presidents."
According to the event's agenda, Cuba will assume the rotating presidency of the Latin American and Caribbean bloc at the Santiago summit.
Latin American, Caribbean and European leaders are set to meet in the Chilean capital this coming weekend and are expected to push ahead the "strategic alliance" they initiated 14 years ago.