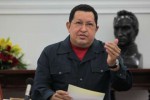 Venezuelan president Hugo Chavez's health continues stable, amid a delicate condition, and he keeps fighting for his recovery, informed Wednesday Science and Technology Minister Jorge Arreaza on his Twitter account.
"The medical team explained us that President Chavez's condition continues being stable within a delicate profile," he wrote in his account @jaarreaza.
Afterwards, Minister Arreaza also posted in the social network that "Commander Chavez continues fighting hard and sends his love to our people. Perseverance and patience!!!"
Also, the Minister informed that Adan Chavez, governor of western state of Barinas and brother of President Chavez, arrived in Havana on Wednesday and that they held a meeting with Venezuelan vice-president Nicolas Maduro and Attorney General Cilia Flores.
(Taken from AVN)