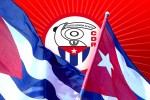 The 8th Congress of the Committees for the Defense of the Revolution (CDR), to take place from September 26 to 28 in Havana, will focus on important tasks and changes to take place in the organization.
CDR National Coordinator Carlos Rafael Miranda said that delegates expect to adapt the revolutionary surveillance activities to the needs of each territory or community. The inclusion of youths as leaders of the organization at different levels is also a major objective of the event, as well as the recycling and blood donation efforts.
The Congress will encourage CDR members to reinforce the struggle for the return home of the Cuban anti-terrorist fighters held in US jails, said Miranda.
A plenary session of the event will elect the organization's national leaders, approve working guidelines and the report on the performance of the organization.
Delegates will meet with foreign delegations to the Congress on Sunday on the case of Gerardo Hernández, Antonio Guerrero, Ramón Labañino and Fernando González, who have been held in US prisons since 1998.