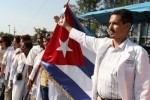 A 644-member medical contingent is taking a training course on the Brazilian health system and Portuguese Language in several Brazilian cities, before they begin offering medical services in September.
According to PL news agency, Brazilian Health minister Alexandre Padilla will inaugurate the course during a meeting with physicians from Cuba, Spain and other countries. The courses will be given in the cities of Fortaleza, in the state of Ceara; Recife, Pernambuco and in Salvador, in Bahia, as well as in Porto Alegre, in Rio Grande do Sul, Belo Horizonte, in Minas Gerais, and in Rio de Janeiro and Sao Paulo.
Following the conclusion of the training initiative in different public universities, the professionals will go to the zones where they will work, as of September 16. They will go to 701 municipalities, where most residents live under extreme poverty, said the deputy labor and education secretary with the Health Ministry, Fernando Menezes.
The contingent of foreign doctors began to arrive in Brazil last Friday with 244 from Spain, Argentina, Uruguay and 400 from Cuba. They were taken to different state city capitals in the northern and northeastern areas of the country.
Another group of 1 thousand 96 Brazilian physicians  will join the contingent, which responded to the call by the federal government to boost its More Doctors Program, which was launched last July by president Dilma Rousseff. The program aims at improving health attention in the country.