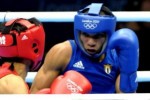 Cuban boxing will depend on nine men in the iconic Golden Belt tournament that begins after tomorrow in Constanta, Romania.
Directives of the sport confirmed that the Cuban boxers will travel from Mexico, where they recently defended the colors of Los Domadores in a match against Los Guerrero s of that country that was organized as a test for the 4th World Series.
The squad includes world champions Lazaro Alvarez (56 kg) and Julio Cesar La Cruz (81), world runner up Yasnier Toledo ( 64) and Beijing 2008 Olympic silver medalist Carlos Banteur (75).
The other members of the team are the universal bronze medalist Jose Angel Larduet (+91), Pan-American number two Yosbany Veitía (49), national champion Iván Oñate (60), national runner up Erislandy Savon ( 91) and novice Gerardo Cervantes (52).
Luis Oliva (69), who is enrolled in a group that will soon cover a preparatory stay in Cayman Islands, returned to the island from Mexico City.
The Romanian competition reappears in the calendar and according to its organizers will also bring together the best exponents of Russia, which would give a high level to the event almost at the gates of the World Championship agreed for October in Kazakhstan.