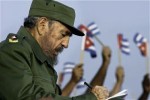 A book of Fidel Castro addressing the independence struggle waged by the peoples of The Americas will be launched January 5 at a book presentation usually held on Saturday at the Old Section of Havana.
The literary gathering will be dedicated to the five Cuban anti-terrorist fighters held in the United States since 1998 and to the new anniversary of the Triumph of the Cuban Revolution, according to the Cuban Book Institute.
Fidel's book, which was released by the Historia publishing house at the Cuban History Institute and by the Council of State Publications Office, includes excerpts of speeches, radio and TV appearances, statements and press conferences.
In the Book the Cuban Revolution leader addresses different issues related to the struggle for independence waged by the peoples of the Americas and the meaning of such fights in the contest of world history.
The compilation, prepared by specialists Dolores Guerra, Orlando Abel Martinez and Yolanda Gonzalez, is an attempt to present an approach to the issue it deals with and an effort to provide a working tool that helps appreciate the theoretical and practical values of the reflections of the historic leader of the Cuban Revolution, reads the introduction of the book.