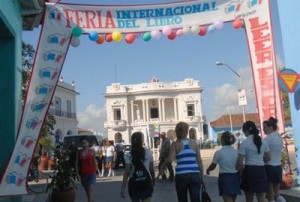 The 22nd International Book Fair in Sancti Spiritus, central Cuba, goes on amidst an austere yet diverse cultural program. Over 39 000 books have been so far sold in this book event dedicated to honor the 160th birthday anniversary of Jose Marti, historian Pedro Pablo Rodriguez, National Literature Prize winner Daniel Chavarria, and the Republic of Angola.
The award ceremony of the Love Letter and El Dinosaurio short story international contests, the launching of new titles, and the lectures, panels, and round tables so far celebrated, have been attended by local writers and guests such as Luis Toledo Sande, Elvia Rosa Castro, Emilio Comas Paret, Raúl Aguiar, Misael Moya, Arnaldo Muñoz Viquillón, and Daniel Chavarría himself.
As usual, children literature books have been the most demanded, while Vilma, una mujer extraordinaria (Vilma, an extraordinary woman) by Juan Carlos Rodriguez, and Fernando Morais's Los últimos soldados de la guerra fría (The last soldiers of the cold war) were as well very much expected by local readers.
The Ediciones Luminaria stand has attracted the attention of the public, with the presentation of titles from its recent catalogue. On the other hand, the Libro-bus (Book-bus) has taken the book fair to peripherical areas.
This Sunday, a cultural gala will close the book fair activities in Sancti Spiritus, from where it will continue its journey to Cuban eastern territories, until closure next March 10th.