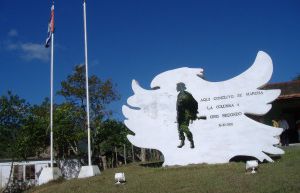 The Mountain Book Fair will be held  from Wednesday until April 27 in the Escambray mountains, which belong to the Cuban central province of Sancti Spiritus.
Texts of various genres and themes for children and adults  are to be presented and sold in the communities of the Turquino Plan (Cuban State program created to develop mountainous and inaccessible zones) .
Titles by Sancti Spiritus publisher Luminaria stand out among the offers to be enjoyed by those who go to outlets.
Residents from intricate communities will rejoice with the performance of musical and theatrical groups, the latter with children's works.
The municipality of Fomento (some 49 km away from the provincial capital Sancti Spiritus) is the main stage of the festival of the printed letters, which every year takes place after the International Book Fair of Havana and its tour across Cuba.
The traditional meeting El Clarín de la Montaña is scheduled for Saturday, rendezvous of poets and repentistas (improviser of oral verse) that will be held in one of Fomento's mountains.
TRANSLATED BY ESCAMBRAY