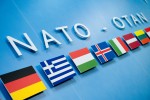 Bolivian government has formally requested the Security Council of the Union of South American Nation (UNASUR) to convene a special meeting to assess the possible links of Colombia with the North Atlantic Treaty Organization (NATO).
The Bolivian Ministry of Defense said a letter was sent to UNASUR Secretary General, Venezuelan Ali Rodriguez, calling on him to convene a meeting to analyze Colombia's stance.
According to the letter, the decision of President Juan Manuel Santos of signing a cooperation agreement with NATO jeopardizes peace and stability in Latin America and poses a threat to regional countries.
"Any presence of NATO in Latin America involves a risk for peace in the region. This presence also implies destabilizing the region", affirmed Minister of Defense Ruben Saavedra.
Since Monday, President Evo Morales described as a threat Colombia's decision to join NATO and asked to convene a special meeting of UNASUR.
The Bolivian head of state said Santos' decision violates peace treaties signed by UNASUR and implies a danger of military intervention.
President Morales underlined the NATO presence would seek to destabilize and overthrow left-wing governments in Latin America such as those of Venezuela, Ecuador, Nicaragua and Bolivia.
Although NATO has reportedly ruled out the possibility of Colombia joining the organization for geographical reasons, Santos confirmed, on Thursday, his country is debating new cooperation agreements with the organization.