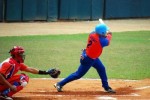 Sancti Spiritus Roosters lost their 4th subseries in the 53 Cuban Baseball National Season when Mayabeque beat them 1×0 on Monday game.
When the team from the Yayabo village got the three-game confrontation vs. Industriales Blue Lions, everyone in the Cuban central province seemed to think Roosters would get back on the road; and the first match vs. Mayabeque encouraged the dream.
However, a lost Noelvis Hernandez,  a scarce offense and a poor defense proved otherwise and made the club led by Yovani Aragon sink in the 14th place of the 53 Cuban Baseball National Season with a 7-11 record, only "outdone" by Cienfuegos and Camaguey.
Sancti Spiritus does not find the way. With a first batter who changes all the time (Robersy Ramos, Orlando Acebey and Daviel Gomez had played the role), with key men like Yunier Mendoza and Frederich Cepeda leaving too many teammates on base (53 out of 64), with players like Eriel Sanchez and Yoandy Baguet under injuries…
It is all too much for a squad that presents eight  newcomers, six with barely one series of experience and other six who sum up between 5 and 8 championships with little or no protagonism at all on them.
In addition Roosters have batted 25 times for double play with men in scoring positions which is the second worst figure in Cuba, and their hurlers had to accept 19 unearned runs due to defense errors.
For all these reasons it is impossible for Sancti Spiritus to be placed among the best eight clubs in the current tourney, so what is left for them is to practice an appropiate strategy dunring the second third in order to win as much games as they can and get closer to the leaders.
Roosters' next rivals are the Tigers from Ciego de Avila, a team they will visit to then return home and play vs. 52 National Series' runners up, Matanzas Crocodiles.