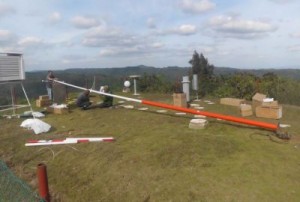 The central Cuban territory of Sancti Spiritus has been recently provided with five automatic meteorological stations, which can permanently monitor weather variables without the intervention of specialist personnel.
The director of the Provincial Meteorological Center (CMP, in Spanish) Miguel García said that now temperature, atmospheric pressure, precipitation, wind direction, wind power, and solar radiation can be better documented.
After the instalment of these completely autonomous stations, weathermen can be independent to do their job. On the other hand, the stations' records are sent to a national network system, which will be part of the forecasting models database in the near future.
The new weather facilities -amounting to some 20 000 dollars each and donated by China- were installed at the already existing local meteorological stations of Topes de Collantes, Trinidad, Sancti Spiritus, and El Jibaro.