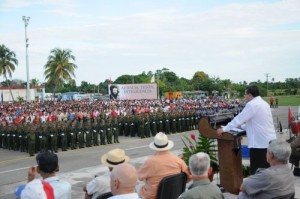 Camilo Cienfuegos was remembered in Yaguajay.
The qualities as a military strategist of Commander Camilo Cienfuegos, decisive in the victories of  Las Villas North Front, were highlighted on Monday in the political and military ceremony commemorating the 55th anniversary of the creation of that guerrilla force on October 7th, 1958.
The celebration took place at the Historic Complex named after the so-called Señor de la Vanguardia (Lord of the Vanguard) , in Yaguajay , northern Sancti Spiritus.
The member of the Party's Central Committee and first secretary in the Cuban central province, José Ramón Monteagudo Ruiz, praised the actions of the guerrilla chief towards achieving unity between the revolutionary forces, since their arrival in Las Villas lands in front of Column No. 2 Antonio Maceo.
The party leader acknowledged the feat of the invading column, which departed from El Salt0, Sierra Maestra, on August 21st and reached Las Villas soil after 48 days of an arduous march though inhospitable and marshy places, under the siege of Fulgencio Batista's tyranny.
These obstacles could be overcome – Monteagudo Ruiz said, thanks to the skills demonstrated by Camilo at all times, when dealing with every situation and, also thanks to the cooperation and brotherhood achieved with Column No. 8 Ciro Redondo, headed by Commander Ernesto Guevara.
The ceremony commemorating the 55 anniversary of the guerrilla force founding began with the laying of wreaths, on behalf of the people of Cuba,  at the base of the sculpture to Camilo Cienfuegos, in Las Villas North Front Mausoleum, where the remains of those killed in the war and the deceased after the victory of the First of January 1959 lie.
A guard of honor, led by students of the Camilo Cienfuegos Military School, also was part of the celebration , presided  by Major General Raul Rodriguez Lobaina, Central Army chief .
October 7th marked the birth of Las Villas North Front , which was composed of Column No. 2 Antonio Maceo; the Maximo Gomez group belonging to the Popular Socialist Party, under the command of Commander Felix Torres and the Marcelo Salado, of the July 26th Movement , which operated in the area since March of that year.
[nggallery id=78]