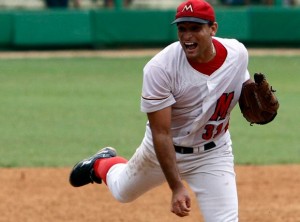 Opportune offense, excelent pitching and accurate defensive led Matanzas to another victory in the semifinals of the 52 Cuban Baseball National Season, tying the subseries to two wins for each province.
The group of players guided by Victor Mesa, also manager of the national squad, defeated Sancti Spiritus 3×1, with starter Jorge Alberto Martinez, second baseman Jose Miguel Fernandez and right fielder Guillermo Heredia as heroes.
Martinez, winner of four games in the past postseason, kept Roosters's heavy offense in line during 6 1/3 innings, allowing four hits and a single run.
Matanzas' runs came in the 1st, 3rd and 5th chapters of the game. Jose Miguel Fernandez brought over homeplate two of them with doubles to the right field.
Heredia scored two runs and played a key defensive action when Roosters seemed to have awakened in the 7th.
Relievers Yoanni Yera and Maykel Martinez sealed the victory by taking care of the last three innings of the game.
This playoff will continue on Monday with the celebration of the 5th encounter, in which the starters announced were Frank Navarro for Matanzas and Angel Peña for Sancti Spiritus.