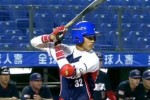 Defending champion USA and Japan will play in the Gold Medal Game at the XXVI 18U Baseball World Cup in Taichung.
Japan demonstrated their power in an impressive victory over Cuba. The United States then completed a dramatic comeback in the eighth to edge out Chinese Taipei.
Both teams improved to 4-0 in the semi-final round robin and already have secured one of the first two spots in the standings. On Saturday evening they will meet in the last semi-final game in a finals preview, which will decide home field advantage for Sunday.
In the third semi-final round robin game on Friday afternoon Korea had shut out Venezuela. On Sunday Korea will take on Chinese Taipei with the winner going to the Bronze Medal Game. Venezuela squares off with Cuba, which already has been qualified for the Game for Third Place.
Today's Results
Japan 10 – Cuba 0
Japan crushed Cuba 10-0 in a mercy-rule shortened evening game at Taichung City Stadium, already securing a spot in the Gold Medal Game. Tomohiro Anraku shut down the Cuban offense with eight scoreless six-hit innings, striking out ten. Ryo Watanabe hit a two-run home run. Satoshi Sonobe and Seiji Uebayashi had big two-run extra base hits during a six-run eighth inning. Cuba dropped to 2-2 in the semi-final round robin with the loss.
USA 7 – Chinese Taipei 5
The United States rallied from a 2-5 deficit with two runs in the seventh and three in the eighth to beat Chinese Taipei 7-5 en route to the championship game. Michael Rivera initiated the comeback with his two-run home run. Jackson Reetz's RBI double tied the game. Bryson Brigman drove Reetz in with a triple a few moments later. Chinese Taipei, which had erased an early 0-2 hole by themselves, didn't had an answer left.
Venezuela 1 – Korea 11
Korea got its first win in the semi-final round robin with an 11-1 rout over Venezuela, keeping their bronze medal game chances alive. They scored nine of their eleven runs between the third and the fifth, highlighted by a two-run home run of Byeong Wuk Lim, who drove in three runs overall. Four players of Korea scored twice. Venezuela's lone run came in the seventh thanks to a RBI triple off the wall by Abdallah Aris.
Standings
1) Japan 4-0
1) USA 4-0
3) Cuba 2-2
4) Chinese Taipei 1-3
4) Korea 1-3
6) Venezuela 0-4
Taken from www.ibaf.org