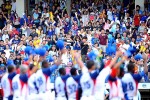 Cuba defetaed Chinese Taipei 6-1 in the third position game at the XXVI 18 U Baseball World Cup in Taichung, on Sunday.
It is the third bronze medal in the last four editions, fifth in history, in the competition, for the Central American team.
Cuba went immediately on the scoreboard with an RBI single by Mesa, after Martinez was walked, a passed ball and a fly to the center field by Moncada.
Robert hit safely to send Mesa home, reached second on Chen's throw and scored the third run because of an error by catcher Yao, also leading to a change on the mound for the locals, who sent Lin Tzu Wei to relieve starter Chiang after only 2 outs in the game.
Chinese Taipei reacted scoring once in the second, out of a walk and two singles allowed by Hernandez, but the Caribbean answered back in the bottom of the inning, with Yusnier Diaz, who doubled to the right, and Rojas, who sent him home with a single.
Diaz was once more the first runner on base for Cuba in the fourth, with a single, Rojas also singled to center, then Esquerre tripled to the left, to set the score to 6-1.
This is also the final score of the game, with Vladimir Gutierrez, who entered with two outs in the third, silencing the home-favorite bats, allowing just 1 hit and 2 walks, striking out 7, and getting the win that gave his team the bronze award of the tournament.
Final Standings XXVI 18U Baseball World Cup
1) USA
2) Japan
3) Cuba
4) Chinese Taipei
5) Korea
6) Venezuela
7) Canada
8) Australia
9) Mexico
10) Colombia
11) Italy
12) Czech Republic
Individual Awards XXVI 18U Baseball World Cup
Most Valuable Player: Luis Ortiz (USA)
Leading Hitter: Adam Haseley (USA)
Pitcher with best ERA: Tomohiro Anraku (JPN)
Pitcher with best Win/Loss Average: Tomohiro Anraku (JPN)
Most runs batted in: Tomoya Mori (JPN)
Most home runs: Tyler O'Neill (CAN)
Most stolen bases: Malik Collymore (CAN)
Most runs scored: Wu Kuo Hao (TPE)
Outstanding defensive player: Moises Esquerre (CUB)
All Star Team XXVI 18U Baseball World Cup
Starting Pitcher: Tomohiro Anraku (JPN)
Relief Pitcher: Taisuke Yamaoke (JPN)
Catcher: Tomoya Mori (JPN)
First Baseman: Byeong Wuk Lim (KOR)
Second Baseman: Li Lin (TPE)
Third Baseman: Michael Rivera (USA)
Shortstop: Moises Esquerre (CUB)
Outfielder: Adam Haseley (USA)
Outfielder: Tzu-Hao Chen (TPE)
Outfielder: Tyler O'Neill (CAN)
Designated Hitter: Cheng-Tang Wang (TPE)
Taken from www.ibaf.com