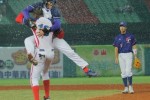 Cuba, USA and Japan opened the semi-final round robin at the XXVI 18U Baseball World Cup on Thursday with wins to bring themselves in premium position to reach the Gold Medal Game on Sunday.
Cuba won in walk-off style against Chinese Taipei. Japan improved to 6-0 in the tournament with a shutout over Korea. Defending champion USA's offense was too much to handle for Venezuela.
Additionally the consolation round for places seventh to twelfth was played. Canada used a 13-run frame to down Australia for seventh place. Mexico defeated Colombia to finish the tournament in 9th. And Italy won a rematch of the European Championship finals against the Czech Republic to claim 11th.
The second round will continue on Friday with three games. In the afternoon Venezuela and Korea will square off at Intercontinental Stadium. In the evening host Chinese Taipei will take on the United States at the same field, while Japan battles with Cuba at Taichung City Stadium.
Semi-Final Round Robin
USA 15 – Venezuela 5
The United States scored in five of the first six innings en route to a 15-5 victory over Venezuela. They improved to 3-0 in the semi-final round robin, while Venezuela dropped to 0-3. Jeffrey Schwarz went 3-for-5 with four RBI. Scott Hurst had four hits. Keaton McKinney crossed the plate three times. Yonathan Oliveras had two RBI for Venezuela.
Japan 10 – Korea 0
Anticipated to be a close game between Asian rivals, Japan did quick work with Korea in a 10-0 shutout. Five runs in the first two and five more in the fifth and sixth sealed the deal for the lone undefeated team in the tournament. Korea loaded the bases in the first and seventh, but didn't came through with the crucial hit against Yuki Matsui and Taisuke Yamaoka. Ryo Watanabe went 4-for-4 with three runs and two RBI. Japan now is 3-0 in the semi-final round robin, Korea 0-3.
Cuba 1 – Chinese Taipei 0
For eight-plus innings Chinese Taipei looked like the better team. But in the end Cuba celebrated a 1-0 walk-off win. Yanio Perez, who had reached due to a fielding error, scored the game-winner with one out in the bottom of the ninth on Yusnier Diaz' single to left field. Earlier in the game Chinese Taipei twice was tagged out at home, trying to break up a scoreless pitcher's duel. With the victory Cuba improved to 2-1, while Chinese Taipei dropped to 1-2 in the semi-finals.
Standings Semi-Final Round Robin
1) Japan 3-0
1) USA 3-0
3) Cuba 2-1
4) Chinese Taipei 1-2
5) Korea 0-3
5) Venezuela
Taken from www.ibaf.org