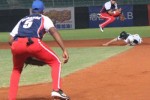 The first round at the XXVI 18U Baseball World Cup in Taichung is history. The top three of each pool Japan, USA, Cuba, Chinese Taipei, Korea and Venezuela advance to the second round.
The remaining six teams in the tournament Australia, Canada, Mexico, Colombia, Czech Republic and Italy will play out ranks seventh to twelfth in the consolation round on Thursday.
18U BWC: Cuba escapes Australia for fourth win
Cuba escaped a strong Australian team with a 3-2 win at Dou-Liou Stadium on Wednesday evening. They took a 3-0 lead and saw Australia closing in with two runs in the seventh. They improved to 4-1 and advanced to the second round. The team from Down Under lost its third straight game and has to settle for the game for seventh place against Canada.
After three scoreless innings to start the game, Cuba broke the tie with two runs by Randy Arozarena and Luis Robert, as Australia's shortstop Zac Shepherd couldn't make the play to his right on Orlando Roas' groundball and the ball went into left field. One frame later Robert drove in Julio Martinez with a sac fly to make it 3-0.
In the seventh Australia made things interesting. Thanks to a pair of errors and a single they loaded the bases with no outs. Shepherd scored on a groundout by Samuel Kennelly, Ryan Dale on a single by Jason Warburton. With one out they still had the bases loaded and Australia had all the momentum. Cuba brought in Vladimir Gutierrez to relieve Yadier Echevarria. He needed just eight pitches to strike out Benjamin Aslett and Andrew Hayes surviving the threat.
It was the last real opportunity for Australia to change the outcome. Echevarria allowed four hits, two unearned runs and two walks in 6 1/3 innings for the win. Gutierrez closed it out. Shaun Wright got the start for Australia, conceding five hits, two runs and two base on balls in 3 2/3 innings.
Cuba is going to square off with Chinese Taipei to open the second round on Thursday evening at Intercontinental Stadium. Australia is facing Canada in the game for seventh place in the afternoon at Taichung City Stadium.
Taken from http://www.ibaf.org/en/news/