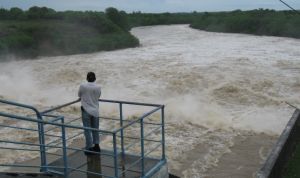 The heavy rainfall reported in Sancti Spiritus helped increase water stocks in local reservoirs. Zaza dam was the most benefitted, after having assimilated 1 025, 000 000m³, thus exceeding its top 1 020, 000 000m³ capacity.
By Arelis García Acosta
According to Rafael Rangel, from the Water Resources Bureau in the province, this dam had not been reported full since 2002, when the territory was also impacted by intense precipitations.  Zaza reservoir was now supplied with over 800 million cubic meters of water between Wednesday noon and Friday afternoon, a fact that seems to have to antecedent.
The Cayajana spillway is fully working since this afternoon. Water is also being released through an auxiliary mechanism that is activated when the water level goes beyond the 1 020, 000 000m³.
Due to the large quantity of fallen rain, this has been considered the rainiest May in history here, with over 584mm so far recorded. Largest precipitations took place in the municipality of Trinidad.
[nggallery id=23]
(photos: Vicente Brito/Escambray)