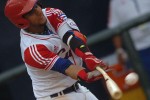 Cuban and Sancti Spiritus third-baseman Yuliesky Gourriel was granted the Most Valuable Player Award in the recently ended Harlem Baseball Week, where his team was crowned after beating surprising Puerto Rico in the gold medal game 4×2.
Gourriel, member of the All Star team of the First World Baseball Classic in 2006, ended the tournament with a 318 ave, 500 obp, 7RBI, 7 runs scored, and 8 walks, reported Prensa Latina News Agency.
Cuba, lead by Victor Mesa, defeated 4×2 Puerto Rico in the big final and thus raised the trophy again after 14 years without victories in Harlem.
The MVP of the game was for lefty Norberto Gonzalez who performed great as reliever in 5 1/3 innings, allowing only one hit and striking out seven. This was Gonzalez second victory in the short tourney, plus his seven appearance with an immaculate ERA, certainly an extraordinary feat.
The best hitters in the final game were Sancti Spiritus Frederich Cepeda (single, Hr, RBI, 1R), who could have been also considered Cuba's MVP of Harlem Baseball Week, Rusney Castillo (2 hits, RBI) and experienced Ariel Pestano (single, 1RBI).
With the victory over undefeated Puerto Rico, Cuba took revenge on their initial loss 3×2 in the tourney, and obtained the 4th title in the history of the event, after being crowned in 1974, 1996, and 1998.
Translated by Escambray