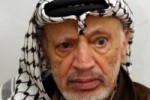 The Palestinian National Authority (PNA) approved a request by the widow of former leader Yasser Arafat to exhume his remains after an investigation confirmed suspicions that Arafat may have been poisoned.
According to Qatar's Al Jazeera TV chain, which conducted the investigation, assisted by medical personnel and other professionals in the radioactive field, Suha Arafat asked current PNA president Mahmoud Abbas to exhume and analyze the remains of her husband, buried in Ramalah, PL news agency reported.
The objective of the investigation is to find out if the remains contain high levels of
Polonius-210, a radioactive element found in unusual amounts on Arafat's belongings, such as his toothbrush and his black and white kerchief.
If high levels of that substance are found on the remains, they would reinforce the
possibility that the leader was poisoned, according to doctors with the Swiss Institute of Radio-physics, which was the first source of information for Al-Jazeera.
Yasser Arafat got sick as his government facilities had already been largely destroyed and besieged by Israeli troops, who allowed him to travel to France for medical treatment. Those events raised suspicions that Arafaf was given a poison that caused his death on November 11, 2004.
The analysis by the institute of Arafat belongings revealed the presence of his blood, saliva, sweat and urine, which suggested high levels of polonium in his body, thus rejecting rumors that he may have died from cancer, or Aids.
Arafat was healthy and suddenly got sick on October 2004, Al-Jazeera said.
According to Xinhua news agency, Israeli authorities have remained silent since the news about the exhumation of Arafat was published.  (Taken from ACN)