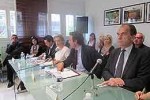 Many countries expressed their support for Cuba at the World Trade Organization (WTO), following the hostile takeover in the United States of the prestigious and well-known Havana Club trademark.
Monica Rodriguez, the Cuban representative to international organizations in Geneva, denounced the U.S. Supreme Court's decision to deny Cubaexport the right to defend its ownership of the trademark.
With this decision, Cuba was definitively stripped of its right to continue the trademark registration it has held in the United States for over 30 years, said Rodriguez at the WTO's Council for Trade-Related Aspects of Intellectual Property Rights.
Despite the serious violations of its multilateral commitments by the United States, Cuba has respected its contractual obligations without the least discrimination, agreed to in the context of international legal instruments regarding intellectual property, Rodriguez said.
In that regard, we have ensured that over 5,000 U.S. brands and patents continue to benefit from their registration in Cuba.
"If the U.S. government fails to act, it will be solely responsible for the theft of the Havana Club brand from its legitimate owner, Cubaexport, and for the negative consequences that could ensue from that disregard for the reciprocal protection of industrial property," Rodriguez warned.
The Cuban declaration was supported by representatives from Argentina, Bolivia, Brazil, Chile, Ecuador, Nicaragua, Paraguay, Dominican Republic, Venezuela, China, India and Vietnam.
Taken from Prensa Latina