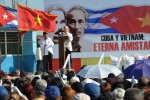 On behalf of the nation and the citizens from the Asian country, Vietnam Communist Party General Secretary Nguyen Phu Trong donated in Havana, five thousand tons of rice to Cuba.The Asian leader had also the opportunity to assess the cooperation of both countries in respect to the grain production which he highlighted.
In this official visit he toured cooperation project to improve rice productivity in Pinar del Rio, west Cuba. to run until 2015 in Los Palacios, where he held talks with farmers and program coordinators to whom he reminded that several decades of joint work reaffirm our solidarity.
Among the successes of this particular program started in 2010 he mentioned rising productivity with more than five tons per hectare in pilot test (small development areas)they operate with technology designed for the crop -tractors, thresher and collecting machines.
In Los Palacios municipality Nguyen Phu Trong visited rice seed farms where he was confirmed the turn out. Consolacion del Sur also hosts the program to be expanded to nearby territories.
Some 12 Vietnamese experts started training hundreds of Cuban producers in eight other provinces.
At the provincial capital, Pinar del Rio, Communist Party first Secretary Gladys Martinez explained the features of the province -160km west of Havana- that relies heavily on agribusiness.
Nguyen Phu Trong was awarded Monday in Havana the Jose Marti National Order, Cuba's top decoration.
Taken from Prensa Latina