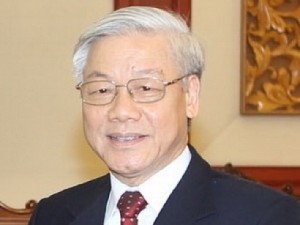 The General Secretary of Vietnam´s Communist Party Nguyen Phu Trong is paying an official visit to Cuba April 8-12 at the invitation of President Raul Castro, first secretary of Cuba´s communist party.
During his stay in Cuba, Phu Trong is scheduled to lay wreaths at the bust of Vietnamese leader Ho Chi Min, and at the monument of Cuban National Hero Jose Marti, on Monday, in Havana.alt
The Vietnamese top Communist Party official will be officially received Monday afternoon at the Revolution Palace, and then held official talks. The distinguished visitor will be granted the top Cuban Jose Marti Order.
Nguyen Phu Trong was born April 14, 1944 in Dong Hoi town, district of Dong Anh, in Hanoi. He is a bachelor in Literature, Professor and Doctor in Political Sciences. He was editor-in-chief of the Communist Magazine, a publication of Vietnam´s Communist Party Central Committee.
Phu Trong was elected member of the Central Committee in 1994 and member of the Political Bureau of the Central Committee in 1997. He has been undersecretary and secretary of Party Committee in the capital Hanoi. As member of the Political Bureau the Central Committee of Vietnam´s Communist Party Phu Trong was in charge of ideological, cultural and scientific-educational issues of the Party. Between 1998 and 2006 he also was vice-president and later president of the Theoretical Council of the Central Committee.
He was elected a parliament member in 2002 and between 2006 and 2011 he was elected Parliament President. The 11th Congress of Vietnam´s Communist Party, held in 2011, elected him General Secretary of the Party´s Central Committee. (Taken from RHC)