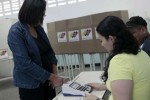 Venezuelans are voting governors and 237 deputies on Sunday at the country's regional elections.
Venezuela's United Socialist Party expects to win the majority of all 23 states, despite the absence of President Hugo Chavez, who is recovering from surgery in Cuba. The United Socialist Party is currently controlling 15 Venezuelan states.
All voting stations in the country opened at 6 am on Sunday and will be opened till all voters cast their vote, although the closing time was set at 6 pm, the National Electoral Council said announced.
Some 17.4 million Venezuelans are expected to participate in the vote.