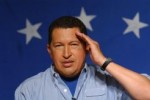 President Hugo Chavez says that Venezuela is now a free country and will never again be a colony. The president made this remark during a campaign rally held Thursday at the El Valle parish, in Caracas.
Speaking before thousands of supporters gathered in a large square of the populous Caracas neighborhood, the president began his address by greeting the people of Cuba and the historic leader of the Cuban Revolution, Fidel Castro, on the occasion of the 59th anniversary of the attacks on the Moncada and Carlos Manuel de Cespedes army barracks in the east of the island.
Chavez recalled that July 26th also marked another anniversary of Eva Peron's death in Argentina; and referred to Venezuela's strategic alliance with the South American nation; which he said is possible because "we are freer today than ever before, and Venezuela will never again be a colony."
The Venezuelan leader referred to the conservative sectors of the country and recalled that today's bourgeoisie is the same that sold out the country to multinationals and the U.S. and carried out the April 2002 coup and the sabotage of the oil sector.
And President Chavez added: "But the Venezuelan people have changed and when presidential elections are held on October 7th, they will deal the Venezuelan right-wing a heavy blow, so that the opposition can never again govern Bolívar's homeland."
(Taken from RHC)